Cowboys Draft: Corey Coleman Too Good to Pass in the 2nd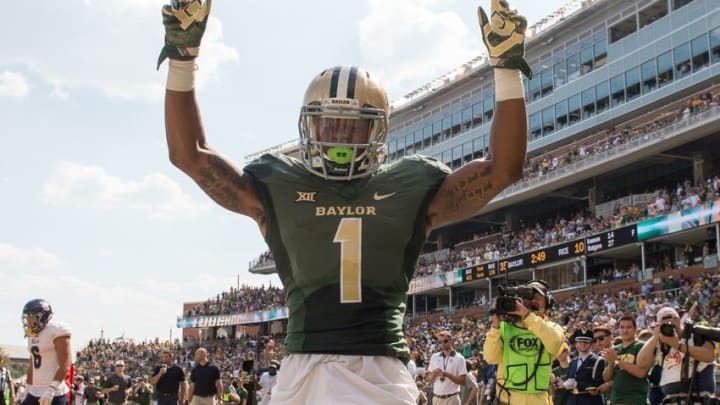 Sep 26, 2015; Waco, TX, USA; Baylor Bears wide receiver Corey Coleman (1) celebrates his touchdown against the Rice Owls during the second quarter at McLane Stadium. Mandatory Credit: Jerome Miron-USA TODAY Sports /
The Dallas Cowboys will be picking at the top of the second round of this April's NFL Draft and may have a shot at Baylor standout, Corey Coleman. He may be too good to pass up.
The Dallas Cowboys have a laundry list of needs this spring and with Tony Romo's window closing by the day, it will be tough for the Cowboys to justify spending a second round pick on anything other than defense, but Corey Coleman may be too good to pass up.
First, we must all accept that the receiver position for the Dallas Cowboys is dangerously thin. We saw first-hand what happens when you subtract Dez Bryant from the offense and it isn't pretty. Obviously, the bulk of the Dallas Cowboys' issues last season revolved around the QB position, but just watching 10 minutes of film you'll see the Cowboys' WRs did little to help the situation.
Often matched up in single coverage, Cowboys receivers repeatedly failed at creating separation. Terrance Williams, specifically, struggled against low-quality competition and regardless of how he looked in week 17, he is no more than a borderline #2/#3 reciever in the NFL.
Cole Beasley is a nice compliment in the slot but he's not a viable option on the outside. Brice Butler flashed plays but he certainly can't be relied on to pick up the slack should something happen to Dez again.
Nope, the Cowboys are in a bad way at receiver and while defense should rank priority #1, #2, and #3, receiver can't be too far behind. That's why it makes sense to consider a dynamic WR like Corey Coleman, should he fall to the Dallas Cowboys in the second round.
More from Cowboys Draft
Coleman, the Baylor standout and Biletnikoff winner (given to Nation's top receiver), was once considered an early 1st round pick. But after multiple injuries to the QB position, the Baylor offense sputtered, and Coleman subsequently followed suit. Watching Corey Coleman play is like watching a smaller and faster Dez Bryant play.
He's aggressive and angry. Coleman high-points the ball among the best in the game.
He has speed to get deep and the strength to break tackles.
Corey Coleman explodes to top speed almost instantly. He has amazing YAC ability and isn't afraid to mix it up and get extremely physical. At 5'11" 194lbs, it's mindboggling to see how he manhandles players twice his size. His size is so misleading you need to watch tape to fully understand how big he plays.
Like Will Fuller, Coleman plays big in big games – a valuable asset in the NFL when every game is big and fairly evenly matched.  In addition to winning the Biletnikoff Award, Coleman also led the country in TD receptions (20), won first-team all-conference, and was a unanimous All-American.
Related Story: Is Fuller the Perfect Match to Dez?
For as good of a compliment Will Fuller would be to Dez Bryant, Corey Coleman is all that and more. Coleman can return punts and kicks with speed and physicality, making him an instant play-maker on this Dallas Cowboys team.
Corey Coleman would instantly become the Cowboys second most feared WR behind Dez and should Dez fall to injury again, Coleman could fill the role better than virtually any other option (free agent or draft pick).
Next: Can this Free Agent Fix the Cowboys' Pass-Rush?
Four years down the road Corey Coleman could even be the successor to Dez and make for a seamless transition in both skill as well as financially. His unofficial 4.37 40 at his pro day only backs up the claim that Coleman can continue his big-play ways in the NFL. The question is, will he make it to the second round…